Blood on the walls as South Africa's national gallery axes first black director
The first black director the South African National art gallery, Riason Naidoo, circulated an email last week alerting the arts community to his sudden and surprise axing from a position he had successfully held at the flagship institution for five years.
Naidoo is taking legal action and has since been threatened with an interdict if he makes any further statements. To those on the outside, the fine art world may appear to be a genteel and elitist milieu, but in reality it is a highly contested minefield brimming with animosities, petty bickering and much political jostling on the one hand and government indifference on the other.
Naidoo felt the first sting of the so-called "white art establishment" in Cape Town in 2010, soon after being appointed as the country's first black director of art collections at the gallery when he curated the massive and ambitious 1910–2010: From Pierneef to Gugulective exhibition to coincide with the Fifa World Cup.

The gallery's original plan had been to hang a "football exhibition" but Naidoo had felt, with the expected influx of tourists, that this would not reflect South Africa's history and was not "a barometer of the country and what is going on". The Fifa World Cup, he reckoned, provided a unique opportunity to showcase 100 years of South African art not only to South Africans but the world.
It was a bold and risky endeavour. Naidoo had only six-and-a-half weeks to curate works from the extensive, existing collection. In that short period he also managed to obtain works from 48 other lenders from across the country to complete the exhibition that took up the entire National Gallery.
In order to create space to hang all of the works, the new director mothballed (with permission from trustees of course) around 80 paintings from the Sir Abe Bailey Bequest – most of them featuring images of horses and hunting in 19th Century Britain. Bailey, a South African mining tycoon, had bequeathed a collection of 400 paintings, the biggest ever of British sporting art and worth several million pounds, on permanent loan to the gallery with the proviso that a percentage of the works would be placed on permanent display.
In their place Naidoo exhibited contemporary South African works including , a life-sized model with fake hair as well as photographer Mikael Subotzky's photographs of Ponte City.
In other words Naidoo had touched certain people "on their gallery" and they were having none of it.
A scathing review of the exhibition by critic Lloyd Pollak titled was published in The Art Times. The controversy was picked up by the Guardian in a piece titled; .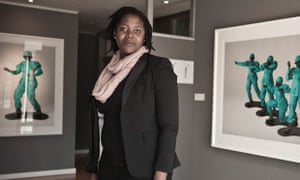 Local critics and weighed in, coming out to bat for Naidoo and his spectacular curatorial debut.
Williamson reminded readers that Naidoo's appointment in 2009 after the decades-long tenure of Marilyn Martin marked "a movement away from the all-white curatorial team at the SANG [that] had long been seen as a necessary part of the post-Apartheid transformation of the museum".
She added that Naidoo came to the gallery with a diverse background in lecturing, curating and writing and that his most recent accomplishment had been a five-year stint working on the historic Timbuktu papers archives culminating in the ceremonial opening of the Ahmed Baba Library in January 2009.
Corrigall criticised the Guardian's story, saying: "I hardly think that a negative review in the SA Times is any reflection of the views in the South African art world. The views expressed in the SA ART Times are those of its editor, Gabriel Clarke-Brown. Had (the Guardian) actually bothered to interview anyone else in the art world he might have discovered that not everyone shares Clarke-Brown's point of view."
1910-2010: From Pierneef to Gugulective saw an unprecedented influx – 67% increase – of visitors to the gallery, a success by anyone's measure.
Afterwards, Naidoo was invited to present talks at several international institutions including the Tate Modern, London (2010), the Virginia Commonwealth University, Qatar (2011), the ACASA Triennale, Fowler Museum, UCLA, Los Angeles (2011), Museum of Modern Art, New York (2012) and the Dak'art biennale, Senegal (2012).
A second controversy was unleashed a year later when the gallery hosted another hugely popular exhibition by curator Andrew Lamprecht. Titled Tretchikoff: A People's Painter, the showcase ran for five months, from May to September 2011, and saw a 106 percent increase in visitor numbers.
Once again it was the "art establishment" who were horrified that the hallowed halls and walls of the South African National Gallery could be sullied by Tretchikoff, the "King of Kitsch" and one of this country's most successful commercial artists (Under the same roof as the Gainsborough, can you believe it!)
Writing in the , Parkash Naidoo later said, "though he enjoyed enormous financial success as an artist and had a huge public following, Tretchikoff was never fully embraced by an often snobbish art establishment, and even today many are still split over whether this Russian émigré should be considered an SA artist at all."
Iziko Museums is subsidised by the Department of Arts and Culture and governed by a council appointed by the Minister of Arts and Culture. It is an umbrella body for 11 of the province's museums including the National gallery and the Old Town House collection. Iziko receives its budget from the government (92.6% of it went to salaries in 2013/14) and is naturally, under these circumstances, required also to raise its own funds. The current chief executive is Rooksana Omar.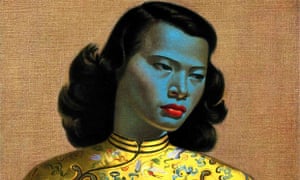 Over the next few years Naidoo began to find himself having to perform his job facing obstacles on three fronts: ever-diminishing budgets, a chorus of old establishment critics ready to pounce and thirdly, increasing apparent government indifference.

In frustration and protest in 2007, curator Haydn Proud put together an exhibition titled Why Collect?. Proud hung empty frames on the walls of the gallery and quoted facts on state spending in other areas including the, R13.3bn in 2007 on the 2010 football world cup compared with the R141,000 allocated to the National gallery to purchase works of art in 2006.
The position did not improve:
• The Iziko exhibition resources budget was cut from R163,000 in 2009-10 to R18,540 in 2013-14.
• The exhibitions budget, which was R623,900 in 2000-10, was cut to R143,170 in 2013-14.
• The important acquisitions budget fluctuated from R300,000 in 2009-10 to zero in 2012-13 and R50,000 in 2013-14.
If we apply the historian Hendrik Willem Van Loon's quote that "The arts are an even better barometer of what is happening in our world than the stock market or the debates in congress," then we are in serious trouble.
The problem with the National gallery is not only the need to maintain the current collection but to restore lost artistic voices as well as secure enough funding to acquire the works of contemporary black artists. Part of the problem has been getting a post-apartheid government to understand and invest in the huge significance the gallery plays in the development of South Africa's vital, visual art heritage.
Department of Arts and Culture officials, many in the art world have complained, have a "poor understanding" of the National gallery and its role, and seldom visit the institution.
In these dire circumstances then it is vital that the director of collections, an extremely influential position, explore dynamic and alternative financial partnerships to secure and showcase these voices as well as raise the profile and status of the gallery – something Naidoo has clearly managed to accomplish in his five years in the position.
In his open letter announcing that Iziko had not renewed his contract, Naidoo expressed the belief that he had accomplished much "under some challenging conditions especially with regard to limited resources".
And this has indeed been the case. The National gallery did profile, as he points out, several significant local and international exhibitions as well as attempting to show its permanent collection "in different and interesting ways" during his tenure.
"It was also important for us to address the imbalances of the past by acknowledging important and often overlooked artists in local art history via retrospective and group exhibitions," said Naidoo.
These included Alexis Preller: and the Sun (2009), A Vigil of Departure: Louis Khehla Maqhubela 1960-2010 (2010), Ernest Cole: Photographer (2011), Peter Clarke: Listening to Distant Thunder (2011), Uncontained: Opening the Community Arts Project Archive (2012), Against the Grain: Five Sculptors in Wood (2013), Peter Clarke: Our artist, Our Poet! (2012) – Dak'art, Senegal, Peter Clarke: Wind Blowing on the Cape Flats (2013) – INIVA, London, Opening 'Plato's Cave': The Legacy of Kevin Atkinson (2013) to the current George Hallett: A Nomad's Harvest (2014).
The National gallery also raised more than R2,5m for A Portrait of South Africa: George Hallett, Peter Clarke & Gerard Sekoto (2013) shown in Paris from 29 October - 27 November 2013.
Naidoo was able to also make significant acquisitions "in terms of redress" of artists such as Noria Mabasa, Billy Mandini, Lionel Davis, Peter Clarke, Ian Berry, Samson Mudzunga, Fanie Jason, Nhlanhla Nsusha, Dan Rakgoathe, Vuyile Voyiya, George Pemba, Helmut Starcke and Cedric Nunn.
It seems puzzling, given the general consensus that Naidoo has done well, that Iziko has not seen fit to renew his contract and that it has not given any apparent reasonable justification for the sudden decision. Surely in terms of firstly, fair labour practice, Iziko should have informed Naidoo of its intention to axe him?
The Daily Maverick sent a list of questions to Rooksana Omar in relation to Naidoo's termination of contract. Omar's email returned an "out of office" reply. Our questions were then forwarded to acting CEO, Bongani Ndhlovu, as well as the communications co-ordinator, Melody Kleinsmith, who had not replied at the time of writing.
Earlier in the week Omar did respond to queries by the online art magazine, ArtThrob, by releasing a statement reading "Riason Naidoo was employed by Iziko museums of on a fixed term contract. From the outset, Riason was aware that his contract would expire at the end of April 2014. Iziko has no further comment."
The response leaves much to be desired. The National gallery is a public institution and the board and CEO is also accountable to the public. It is not healthy for an institution of such vital importance to the country's fine art heritage to create this kind of unease within the arts world without explanation.
Naidoo has subsequently filed a complaint with the Commission for Conciliation, Mediation and Arbitration and it appeared as if hostilities escalated this week when he was threatened with a court interdict if he should make any further public statements.
Those on the outside of the matter are left wondering: why the fear and loathing?